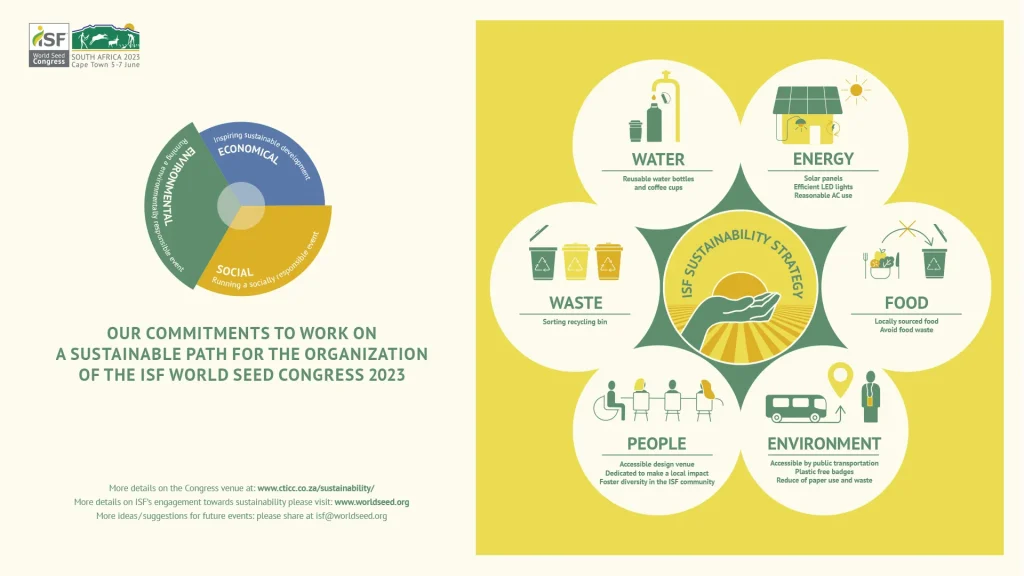 OUR COMMITMENTS TO WORK ON A SUSTAINABLE PATH FOR THE ORGANIZATION OF THE ISF WORLD SEED CONGRESS 2023
Set the vision to inspire our members, delegates, and visitors on sustainable actions and development. Run an environmentally and socially responsible event.
ISF supports activities that could increase the added value of agricultural production and encourage innovative approaches to encourage professionals to support such activities. 
ISF is looking to reduce the environmental footprint of an in-person event gathering around 1'ooo participant by creating less waste (including food) and assessing and reducing carbon emissions during the event.
ISF wants to run the event with a positive social impact by promoting diversity and inclusion, safe and ethical business, and by assessing well-being and accessibility for everyone, creating a positive impact around the event.
ISF is working with the exhibition center to take more environmentally conscious measures such as recycling materials, generating less waste (badges), printing less, using LED lights, reducing food quantity, etc. ISF is also engaging in measuring indicators to monitor progress over the years.
ISF is encouraging the participation of all actors along the agri-food value chains (farmers, students, young professionals, academia…) to facilitate exchanges and promote job opportunities within the industry. ISF is willing to create a platform for discussion to stimulate innovative solutions which could help the seed industry grow sustainably. In the future, onsite workshops, poster sessions, and awards could be implemented to reach those goals. Send your proposals and ideas at isf@worldseed.org